Back to it. More tractors. Took some pictures in the snow. Talked to Dan. He parked this tractor on the canal when he was a teenager. He appears to be in his fifties(?) now. So it's been sitting for 40 years or so. I saw it a while back and finally pulled in and chatted. Perfection.
So I grabbed a panelboard and laid out a 2″ x 2″ grid to sketch out the proportions.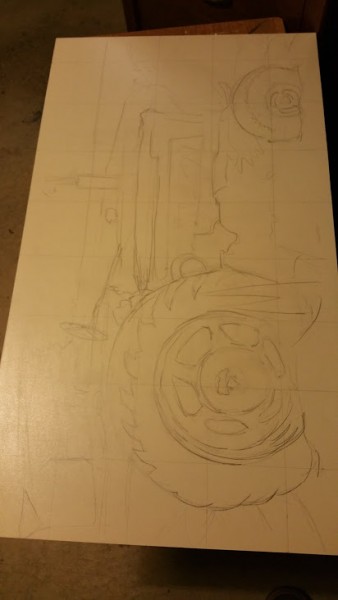 Panel size is approx. 19.5″ x 34.5″. I cut the panel per my phone's photo size ratio. I then toned it with a mixture of ultramarine blue, indian yellow and alizarin crimson (all translucent colors). I was trying to make a yellow ocher, which I don't have.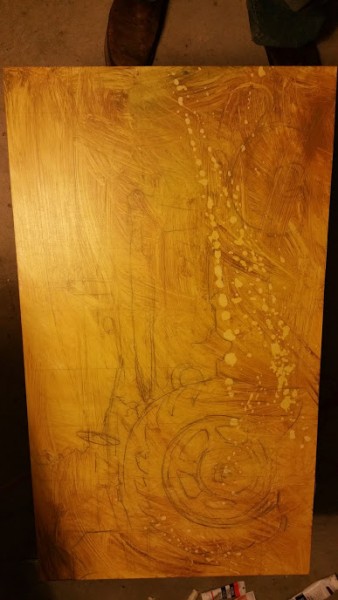 And there it sits until tomorrow…
or a week later. Here I added some dark colors with the same translucent primary colors.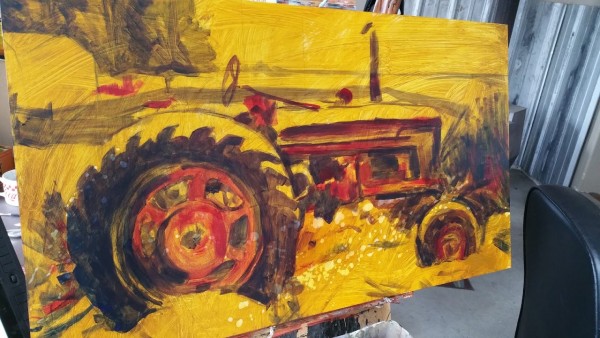 I then added white to these same primary colors for the lights.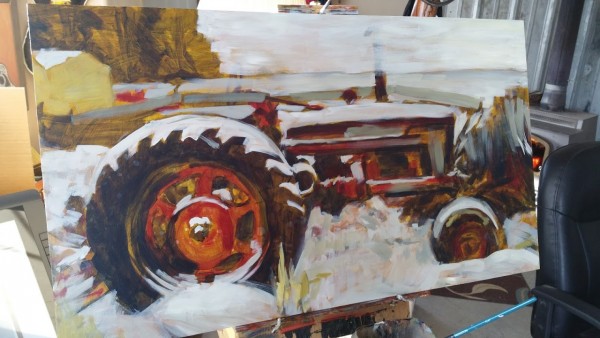 This is about the time I start to get a little nervous. What I don't want to do is just copy the photo. I want it to look realistic but still look like a painting, so there's a weird balance of spontaneity and precision. I haven't done a painting of this size for a while, so that adds additional stress because it takes longer. I just have to push through this stage. Keep refining the image without being too timid.
Here I'm starting to refine shapes and adjust tones. It's very convenient to have the photo on the computer. With the ruler and grid features in Photoshop I can recheck measurements for placements of critical objects in the painting like the wheels and engine components.
I also start to add opaque colors into the mix: cerulean blue, cadmium yellow light and cadmium red light. So essentially, I am now using two of each primary colors. One being translucent and one being opaque, plus white. The color combinations are endless.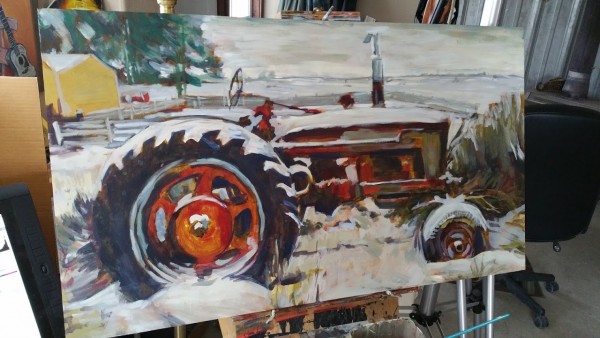 More refining. I took this photo with a warm light shining down on the painting and after seeing the photo I really liked the illusion it created of a warm sun lighting the seen, so I opted to try and incorporate this into the painting.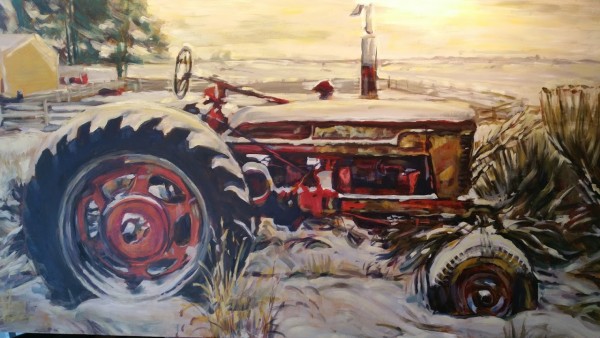 And So, the finished painting with some detail photos of the wheels.